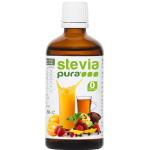 STEVIA LIQUID SWEETENER DROPS | 50ML
Stevia liquid sweetener - the liquid Stevia table sweetener
In a medical amber glass bottle - 50ml | pharmacies quality
This liquid stevia sweetener (also called stevia liquid sweetener, stevia liquid sweetener, stevia table sweetener, sweetener) is a composition of the stevia extract, the steviol glycosides, which are commonly referred to as stevia.
The intense sweetening power of the steviapura® liquid sweetness is obtained from the natural components of the stevia plant, the steviol glycosides and the rebaudioside-A .
High-quality raw materials, the manufacturing process and an optimal recipe guarantee a very pleasant and sweet taste and without the bitter taste.
The liquid Stevia table sweetness is one of the tasty products that are offered today as Stevia liquid sweetness. This table sweetness can be used universally for low-calorie sweetening in smoothies, desserts, salad dressings, for baking and cooking and is a real alternative to chemical sweeteners.
With the drop dosage, the Stevia liquid sweetness can be stirred in and mixed quickly and easily.
With the steviapura® liquid sweetener you get a Stevia quality product. Because of the good taste, the high yield and the price-performance ratio, it is used by health-conscious consumers and diabetics worldwide.
Stevia sweeteners are suitable for diabetics.
Pure, liquid stevia extract without additives from the plant stevia.
Without bitter taste, aromas, alcohol or fructose. Brand quality from Germany.
---
---
---